We are South Australia's most experienced developer of solar farms.
The Redmud Green Energy brand has a long-established reputation in the industry, giving our clients confidence in every project that we build. Each site is constructed with quality components, meets stringent safety standards, and is compliant with all state regulations and national certifications.

Redmud have developed a model which maximises potential income while being an affordable and viable solution. A standard 200kW Redmud Green Energy solar farm has the potential to output approximately 1.3 Megawatt Hours of electricity daily.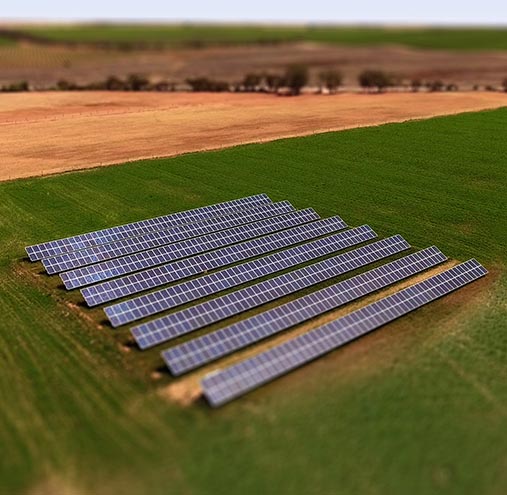 Redmud have developed over 100 small-scale solar farms throughout South Australia, view our current generating sites below:
Sites Online
100kW - 500kW Solar Installations
20 - 100kW Solar Installations
>500kW Solar Installations
The Redmud Green Energy Model
The Redmud business model key relationship is partnering land-owners with investors. The land-owner receives annual payments for the use of their land, and the investor receives returns from the solar farm generation.
Solar Farms are generally approved and constructed within a special purpose vehicle, or SPV. Shares in the SPV can be owned by a single individual or by multiple entities*. Each shareholder contributes to the operating costs of the company, and receives dividends from the electricity generated based on the number of shares held.
*Sites with multiple individuals looking to invest must have shareholdings totalling 100% arranged separately; Redmud is unable to provide an investor matching service at this stage.
Each month, every Redmud Solar Farm receives revenue from generating energy back into the grid. Redmud farms sized 200kW and greater receive an additional stream of Certificate revenue. Both of these mechanisms are explained in greater detail below.
(All Sites)

Redmud Solar Farms generate energy which is sold to the National Electricity Market through licenced participants and is consumed instantaneously at other locations. The supply and demand balancing is overseen by the Australian Energy Market Operator (AEMO) and ensures that energy generators receive revenue* for supplying consumers.
*There are a variety of mechanisms for receiving energy revenue, from fixed Power Purchase Agreements (PPAs) with energy retailers, through to trading directly to the spot or wholesale market.
(200kW+ Sites Only)

Redmud solar farms with a capacity above 200kW also generate Large Generation Certificates (or LGCs*). These Certificates are created based on the output of energy from the solar farm; 1MWh of generation is equal to 1 LGC. Certificates are accumulated each month, and normally sold through an aggregator on a spot market. The current Federal Government Certificate Scheme is legislated until 2030, and requires liable entities to purchase these certificates to offset their emissions, creating the supply and demand mechanism.
*Note: Smaller Redmud Farms of 100KW and under are not eligible to receive ongoing Certificate Revenue, instead receiving all of this revenue as a lump sum payment at the outset of the project.
Redmud Solar Farms come with a Remote Power Control Platform, including a customised market-read algorithm to maximise the return of your asset. Being controllable and flexible may allow Redmud farms to receive new types of revenue streams in the future as energy markets evolve.
A battery connection-point readies each Redmud site for another opportunity in the future; storing energy during the day and generating it back into the grid at night. The ability to add batteries in the future may also allow each site to participate in new and emerging ancillary service markets such as Frequency Control.